It's been long in the coming, but now is finally the time for digital newspapers to make their  mark. Online advertising revenue from newspaper websites and digital newspaper subscriptions are expected to almos8t double from its USD 8 billion level by 2015 – that's an increase of above 90 percent and a CAGR in excess of a massive 17% – that is significant.
Unfortunately because of falling print revenues in developed internet markets, the worldwide newspaper business will hardly grow at all over the next 5 years: total gross revenues for the world's newspaper publishers is expected to increase from USD 126 billion in 2011 to over USD 130 billion in 2015, a CAGR of just 0.7% – falling well short of the projected world GDP growth rate.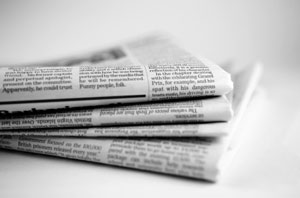 Newspapers are facing a serious competitive challenge in markets where there is mass adoption of internet-based services such as user-generated content, online news and social media. In markets such as these, newspaper advertising revenues are plummeting: United Kingdom – down 30.8% between 2006 and 2010; Spain – down 37.5%; Denmark – down 33.2%; Poland – down 29.8%; Norway – down 40.6%; Japan – down 36%.
In markets where modern internet services have yet to reach mass adoption, however, the picture is quite different. Take the Indian newspaper market, for example – this is the world's largest when measured by circulation. There it is positively booming, with advertising expenditure having increased by 70.4 percent between 2006 and 2010 and circulation also having increased by 40.8 percent. Similar growth patterns can be observed in other less developed markets like Indonesia, Croatia, Bulgaria, Mexico, Ecuador and Egypt where newspaper circulation has increased by 17.9%, 39.4%, 67.0%, 24.3%, 51.5% and 27.8% respectively over the same 2006-2010 period.
While revenues of newspaper publishers in developed internet markets are shrinking, explosive growth in digital tablet, ebook readers and smartphones are acting like a super-powered shrinkage accelerator. It is estimated that by 2015, the installed base of such digital devices will exceed 2.8 billion units. Each of these likely wireless enabled devices will able to display newspaper content with high quality. By stark contrast, the total daily readership of all the world's newspapers in at that point will be around 1.8 billion.
In a mere 10 years, the technology industry will have achieved an equivalent reach with digital newspapers that has taken over a 100 years of infrastructure development in the traditional newspaper market. Now if that isn't something to marvel at…
This article serves as an introduction to launch B24 – India's digital newspaper and aggregator of online news content for the Indian market. Stay tuned for the best consolidation of news content and special guest articles by respected Indian and international columnists.